14 October 2022
How to Leverage Voice Search Optimization in the Caribbean?
---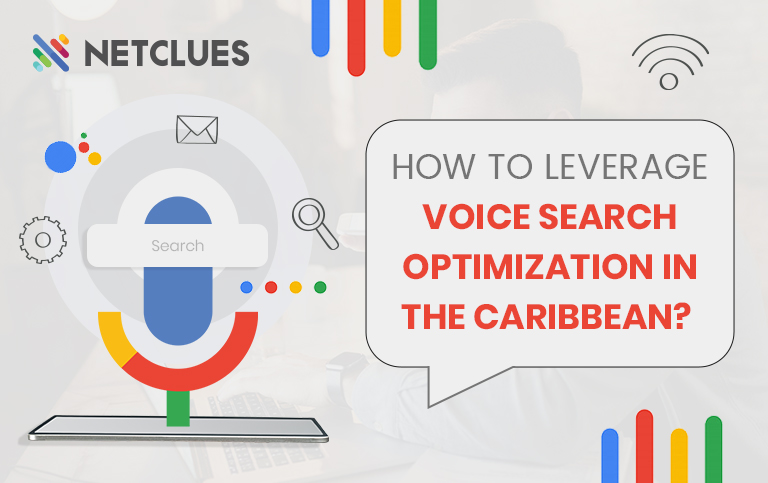 There was a time when typing on a computer seemed like a distant science fantasy. Fast forward to today, we see people talking to their watches, conversing with Alexa like a close friend, and using voice to amplify day-to-day activities. The magnetism of voice conservation is faster and undeniable, and it's hands-free, letting you multitask.
In fact, 52% of voice assistant users say they use voice tech several times a day or nearly every day. If you are not leveraging the power of voice search optimization for your website, you are missing out on a valuable asset. Let's learn more about voice search optimization and how you can utilize it for your business.
What is Voice Search Optimization?
Voice search optimization helps optimize your page to answer a user's question using the voice search device.
How does voice search work?
When a user uses a voice search device to search for a product or service, he has to say, "Ok, Google," or "Hey, Alexa."
Once the voice search device recognizes the voice, then a user has to say his query or question.
And finally, the voice search device reads out the answer that appears in the search result.
All the queries are answered that best fit the user's search query. The voice search option is available everywhere, on your phone, laptop, tablet, PC, and all other compatible devices like Alexa and Siri. Now, you might be curious what is the importance of voice search optimization. Well, let us guide you for the same.
The process of voice search optimization is essential in growing your online business to the next level. You might think voice search is not something your customers need, but the statistics say otherwise.
Let's look at it;
65% of consumers between the age of 25 and 49 talk to their voice-enabled devices daily.
Close to 50% of people are now researching products using voice search.
20% of mobile queries are voice searches.
61% of consumers say voice search is the most useful when their hands or vision is occupied.
62% of those in the U.S. aged 12 leverage the power of siri search optimization, cortona search optimization or 'Hey Google search optimization.
So, now you may realize why you should optimize voice search for your website.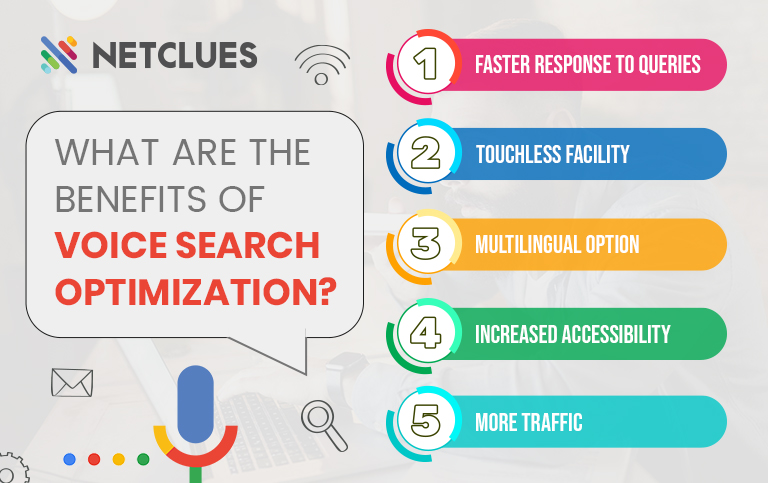 What are the Benefits of Voice Search Optimization?
1. Faster Response to Queries
Why type? When you can speak seven times faster! Respond effectively to your customers' queries when they use the voice search option on your website.
2. Touchless Facility
The hands-off facility allows your customers to get that extra comfort and convenience. They can search for anything and everything without going through the hassle of typing. All they need to do is speak, and all the relevant results based on their search will appear.
From shopping, navigating directions, and getting relevant answers, voice search has always acted as a great supporting tool in times of need. Voice search will continue to flourish as the global voice recognition tech market reached close to 10 billion U.S. dollars in 2020 and is projected to amount to almost 30 billion U.S. dollars in 2026.
3. Multilingual Option
One of the best parts of voice search is that it offers a multilingual option to a user. Users can search for whatever they want in their favorable language. Furthermore, voice search is already available in approximately 29 languages, and more developments are expected to occur in the near future.
4. Increased Accessibility
Voice search is an incredible tool that helps everyone, from kids to older adults; it is one convenient tool that is accessible for everyone.
Moreover, it is also beneficial for the ones who are partially disabled. Without touching the device, they just have to command their questions. When your brand has the voice search option, you can target a wide range of audiences.
5. More Traffic
With voice search optimization on your website, you tend to get more traffic than ever. Usually, when searching for a service or product, users are sure to open a website relevant to their search query. They will check out the required service or a product and then make a purchase.
When you have voice search optimization for your site, you are basically revealing your website to more potential customers, leading to more traffic.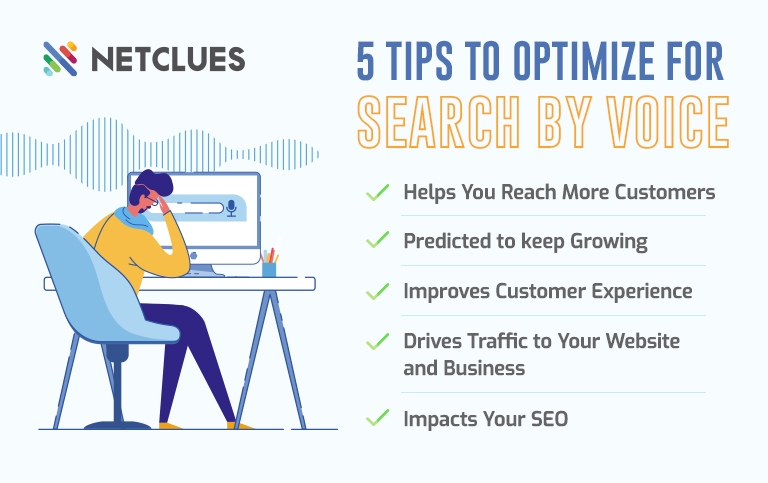 5 Tips to Optimize for Search By Voice
Here are the 5 tips to optimize for search by voice
1. Helps You Reach More Customers
As of 2020, 62% of Americans said they had used voice assistant technology. (Edison Research, 2020). These numbers are all the more reasons to get voice search optimization for your website.
What's more, if you get more traffic, you lead to more conversions, which will help boost your ecommerce business economy. To increase your brand's potential and generate more leads and revenue, you need to leverage the power of voice search optimization.
Most individuals conduct voice searches on a daily basis. 18% of Americans age 18+ own a car with an in-dash information and entertainment system. (Edison Research, 2020). So, if you have voice search optimization, you can reach out to more customers and generate better results.
2. Predicted to keep Growing
The popularity of voice search is never running out of business. By the year 2021, the number of global smart speaker shipments was expected to reach 186 million, with shipments likely to pass 200 million annually in 2022-2023.
One of the core advantages of voice search technology is that it easily understands the needs and preferences of a user. 51% of consumers claim that they would use voice search to find a local SEO business near them. So, if you are to comprehend these numbers, you can thrive in your business.
3. Improves Customer Experience
Customer experience is one of the significant aspects of any business. If you provide customers with solutions, they will surely return to your business. When you give a voice search option to your customers, you are sure to enhance their experience.
Let's say; your customers can search your restaurant's menu and get themselves a meal without actually stopping their existing work; wouldn't that be amazing? They don't have to search or type anything, and in addition to that, they get what they want.
4. Drives Traffic to Your Website and Business
To grow your business, you must go hand in hand with technology. Voice search technology is one of them.
When a user searches for something using voice search, the voice search device will fetch the link of your website if it matches the user's search query. Then they can visit your website and learn more about business marketing.
Around 75% of voice search results appear in the top 3 on the desktop for that query. This means if you want your website to be top on the top of search results, then you should leverage the power of voice search optimization.
5. Impacts Your SEO
SEO plays a significant role in the growth of your website and business. To enhance your marketing plan for your business on Google, you need to use the latest SEO techniques. And when you are using SEO, you must understand that voice search optimization is very much required for your business.
When a voice search is conducted, the compatible device tries to fetch the information from the featured snippet, which appears in the search results. 40.7% of all answers from voice search are pulled from a Featured Snippet.
When you do voice search optimization for your website, you must ensure that your snippets answer your user's query so that it appears in search results. This will help you appear at the top of the search results.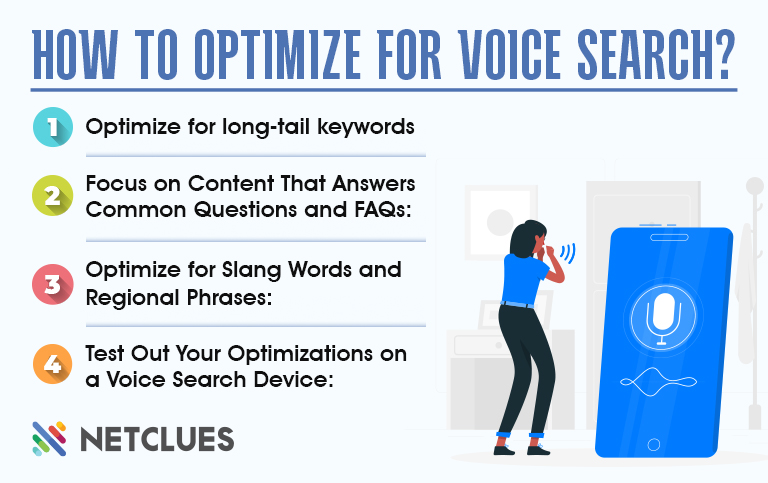 How to Optimize for Voice Search?
These are the best practices of voice search optimization you can follow to optimize your Caribbean business for local search.
1. Optimize for long-tail keywords
To perform voice search optimization, you will need to use long-tail keywords. Long-tail keywords contain three or more words. Since user queries are particular during voice search, you can use long-tail keywords to enhance your website's growth.
You'll need to target long-tail keywords and phrases and justify your content accordingly so people can learn more about your offerings.
2. Focus on Content That Answers Common Questions and FAQs
You must pay attention to the content and FAQs that specifically solve your customers' queries. You can include common or generally asked questions to address and solve a user's concerns.
Nearly 10% of voice search queries begin as actual questions – who, what, when, where, why, how – compared to only 3.7% of text-based searches. If you answer your users' What, Why, and Where questions, your brand tends to appear more in their searches.
You have to determine your customers' pain points and create content that solves their concerns so that it piques their interest. You can include an FAQ page that will serve as an excellent medium for search engines to fetch featured snippets.
3. Optimize for Slang Words and Regional Phrases
When a user searches for a product or service, their typing query might differ from dictating query. So, to do voice search optimization, you will need to understand how people search verbally.
You will also have to optimize for slang words and regional phrases in your content. For instance, someone might ask, "what is fear of missing out?" on the other hand, someone else might ask what is "FOMO?"
These small details can create a big impact and can get your Caribbean business higher up in the local voice search
4. Test Out Your Optimizations on a Voice Search Device
To ensure your website's voice search optimization, you will need to test its effectiveness. One of the great way to test it out is by asking questions or queries that match or are related to your website's content.
You can even check out how other companies are doing on the exact search and follow their content structure, which will help you improve your strategy. And if in case, you are still confused with the entire concept of voice search optimization, you can always choose to take voice search optimization consulting from the right experts.
If you are looking for other services like Branding, Designing, Digital Marketing, Intranet, Development, and more, you can connect with our experts at Netclues. Our diverse experience and smart solutions will elevate your online business to the next level.